LIFE, DREAMS AND COMICS OF ALEKSANDAR ZOGRAF
at transporter / wien: sonntag, 14.10., 19 uhr

presented/supported by vienna:
www.elffriede.net
www.machfeld.net
http://tonto.at
www.murmel-comics.org

... and friends and fans

dj: roland s. /murmelcomics

- a slide presentation of Serbian cartoonist, present on the international scene since the early 90s,
whose new book (Regards from Serbia) was just recently released by Top Shelf in US.
Along with the slide talk, presented will be self-published booklets recreating Zograf's half-dream hallucinations,
and embroideries based on Zograf's drawings, created by his wife Gordana Basta.

impressions by zografs camera-eye

SEE MORE AT: zograf-wp
and: http://www.topshelfcomix.com/catalog.php?type=12&title=210
______________________________________________________________________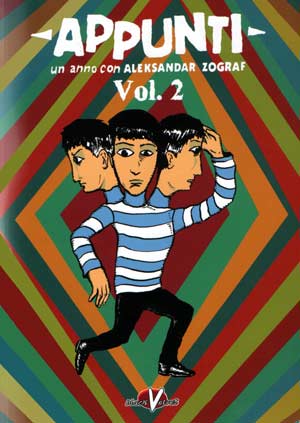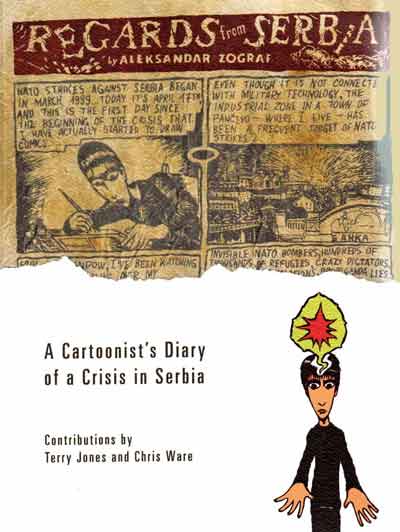 Sasa
Aleksandar Zograf ( or Saša Rakezic to use his real name) started to publish his comics in Serbian magazines in the mid 80s. During the 90s, he entered the international scene - in the US he contributed to magazines such as Weirdo (edited by Robert Crumb), The Comics Journal, Zero Zero, Rare Bit Fiends, Buzzard, and many others.

Fantagraphics Books, one of the most important independent comics publishers in US, produced several collections of Zograf's comics, after which his books were published in the UK, Italy, Spain, Germany, and France (with L'Association), including two titles in Serbia ( Ocean of Surprises and The Moon and the Heart on Fire). More recently, it's Top Shelf that published Regards from Serbia, his latest American book.

Starting in 2003, Zograf's comics have regularly been published in the Belgarde independent weekly Vreme. Along with publishing comic books and albums, and the regular comics stories in Vreme magazine, this author has continued putting out self-published pamphlets, such as Hypnagogic Review, with drawings based on half-dream visions, and Kuhinja (spin off of his comics workshop), even T-Shirts based on his drawings (printed in his homeland but also in Italy,US, even Brazil, where an entire series was released).

At his recent exhibitions Zograf has included works by his wife Gordana Basta, who - along with occasional sript-writing for Zograf's comics, is also producing embroideries based on his drawings. These embroideries (?kuvarica? in Serbian) are examples of traditional kitchen-bound DIY art production in old-time Serbia. Gordana Basta's ?modern? embroidries were on display during Zograf's solo exhibitions held in galleries such as Liquid Ad Store in Munich or Mondo Bizzarro in Rome, to mention but a few.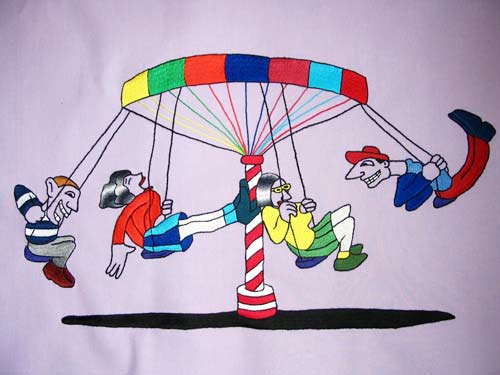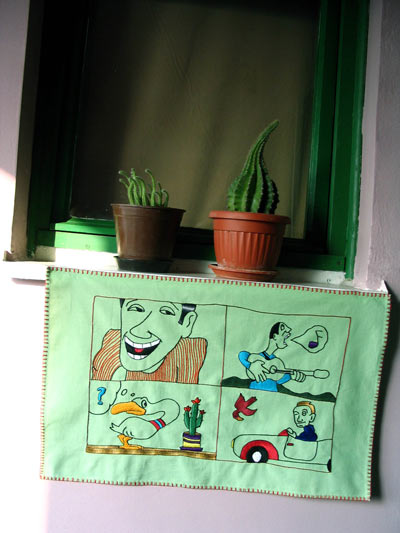 There are few different strands appearent in my work... Sometimes I concentarte on re-telling my dreams in the form of comics. Other times, my approach is almost journalistic, connected with the situation in the Balkans. Generally my stories could be more easily connected with ?literature? than ?popular comics?. The very tone of self-confession, appearent in many of my comics, is to be linked with the approach of a novel writer.

Another topic of my Vreme strips is travel...When I find myself in a town that is new to me, I usually try to find an interesting detail, a story, instead of practising ?tourism? in the usual sense. You can always be impressed by the beauty and glamour of a town that you visit (and I believe that just any place where people live has some beauty and some quality that you can discover), but it's not very moving from the point of the story making. Maybe that is why my ?reportage? from European towns is not what you may expect. Sometimes it's even funny. For example, during our stay in Munich, when there was a disscussion held in connection to the exhibition of my comics and works by (my wife and collaborator) Gordana Basta, somebody from the audience asked what impressed me most in Munich, and will it be featured in my next comic? And I said: the most striking thing was seeing gorillas in the Munich zoo!

It was not sarcastic or anything- I love Munich, and I have a lot of friends in that city. The reason for that answer is that something really exciting happened during our visit to Munich zoo. It happened that gorillas, which are really shy and private creatures, known for their dislike of captivity and habit of hiding in the most distant corner of the cage, have suddenly stood up from the shadows and come to stare at the people, from which they were separated only by a glass wall. It was an amazing, unforgetable experience, and even now I can't figure why the hell these creatures had the urge to do something like that. Then we were approached by the scary looking papa-gorilla and delicate mama-gorilla with a furry child in her chest - an entire gorilla familly, and they stood only few centimeters away from us, staring deep into our eyes?...

(from the December 2005 interview published in Feral Tribune, Croatia)
-----------------------------------------------------------------------
Curriculum Vitae
Sasa Rakezic (a.k.a. Aleksandar Zograf)
I was born in 1963,and I started to publish my comics in various Serbian magazines in 1986. From the beginning of the 90's, most of my works have been published abroad, in magazines like Weirdo, The Comics Journal, Zero Zero, Rare Bit Fiends , Buzzard, The Stranger, New City, Cow (U.S.), Lapin (France), Internazionale, Il Manifesto, Linus, Mano, Kerosene, Mondo Naif, Black, Nonzi (Italy), Babel, Galera (Greece), Galago (Sweden) , Stripburger (Slovenia), Das Magazin, Zur Zeit, Strapazin (Switzerland), Fidus (Norway) , Nostros somos los muertos (Spain), Zone 5300 (Holland), Sturgeon White Moss (U.K.), Quadrado (Portugal), etc.
SOLO BOOKS:
(US): Life Under Sanctions (Fantagraphics Books, 1994), Psychonaut 1-2 (Fantagraphics Books, 1996),
Flock of Dreamers (Kitchen Sink Press, 1997), Psychonaut 3 (Monster Pants Comics/ Freight Films, 1999), Regards from Serbia (Top Shelf, 2007)
(UK):Dream Watcher (Slab-O-Concrete, first printing 1998, second printing 1999), Bulletins from Serbia ( Slab-O-Concrete, 1999)
(Italy): Diario (Centro fumetto Andrea Pazienza, 1998), Psiconauta (PuntoZero, 1999), Lettere dalla Serbia (1999), Saluti dalla Serbia (PuntoZero, 2001), C'e vita nei Balcani? (Black Velvet, 2005), Appunti (Black elvet, 2005), Appunti 2 (Black Velvet, 2006)
(France): E-Mails de Pancevo ( L'Association, 1999), Bons Baisers de Serbie (L'Association, 1999)
(Serbia): Okean Iznenadjenja (L.O.M., 2000), Mesec i ognjeno srce (SKC, 2002)
(Germany):Psychonaut ( Jochen Enterprises, 1998)
(Spain): Como fui bombardeado por el mundo libre (Under Comics, 2000) , Fin de siglo (Under Comics, 2001), Vida en los Balcanes? (Under Comics, 2001)
(Finland): Elamaa saarroksissa (Noitarumpu, 1996)
(Croatia): Tusta i tma (VBZ,2005), (Hungary): Pszichonauta (Nyitott Konyvmuhely Kiado,2006), Greece: Hairetismata apo ti Servia ( Ekdoseis)
SELF PUBLISHED BOOKS:
Jamming with Aleksandar Zograf (2002)
During the NATO bombing campaign in Serbia, I wrote E-Mail messages that were posted on the internet in many countries, and collected in a book form, in UK ( Bulletins from Serbia, Slab-O-Concerete, 1999), Italy (Lettere dalla Serbia, Punto Zero, 1999) and France ( E-Mails de Pancevo, L'Association, 1999).
California-based web site TheComicStore.com was regularly (from 1999 to 2001) posting my weekly strip titled Regards from Serbia (later re-titled into Aleksandar Zograf's Diary). Starting from 2003., the most important political weekly in Serbia, called Vreme, is regularly publishig my weekly strip, which is also being translated in Italian and posted every week on Italian web site:http://www.osservatoriobalcani.org/
I participated in comics conventions, festivals and conferences, including Expocomics '94. '95. (Bari, Italy), Caption '97, and Caption '04 ( Oxford, UK), Nuvole a Cremona ( Cremona, Italy), Break 21 (Ljubljana, Slovenia), Lucca Comics '98 (Lucca, Italy), Athens' Comics Festival '99 (Athens, Greece), Bookfest '99 Seattle (Seattle, US), Max Fish's Annual Cartoon Exhibition '99( New York, US ), BIG Torino 2000, Torino Comics (Turin, Italy), Tarcentofumetto (Tarcento, Italy), Happening Underground (Milan, Italy), Festa Dell'Unita (Bologna, Italy), Erlangen Comics Festival ( Erlangen, Germany), Illustrations et BD independentes (Livry Gargan, France), Por 24 mila baci- Fumetti dall' altra Europa
( Ravenna, Italy), Balkan Konsulat (Graz, Austria), Comic Strories from Balkans (Thessaloniki, Greece), Les Balkans en BD (Bordeaux, France), Salao Lisboa 2003 (Lisbon, Portugal), Raptus Comics Festival 2003 (Bergen, Norway), CIVITAS 2004 (Padova, Italy), Intersezioni (Verona, Italy), COMICA 2004 (London,UK), Tonto Comic Festival (Graz, Austria), Napoli COMICON (Naples, Italy), CRACK! (Rome, Italy), 2005-2006 Amadora Comics Festival (Amadora, Portugal), Independent Comix Festival (Vienna, Austria), Balkan Black Box (Berlin, Germany), COMICFESTIVAL 2007( Munich, Germany), 2007 Italia Wave (Florence, Italy) etc.
Since 2002, I'm the art director of the annual comics festival called GRRR!, which takes place in Pancevo's Gallery of Contemporary Art.
I participated in comics workshops in Sarajevo (Bosnia), Vrsac , Pancevo, Belgrade (Serbia), Poitiers, Livry Gargan (France), Graz (Austria), Stavanger (Norway), etc . In 2006, together with French cartoonist Remy Malingrey, I coordinated a comics workshop as part of the event titled France: Mode d'emploi, held in French Cultural Center in Belgrade.
Talks and lectures held at School of Visual Art, New York (1999), Ecole Superieure de L'image Site D'Angouleme (2001), Art Institute of San Francisco (2002), Istituto Storico Parri, Bologna (2007) etc.
Solo exhibitions: Pancevo, Serbia( Galerija Nova), Belgrade, Serbia ( Underground, Remont, SKC, Istituto Italiano di Cultura, Ozone, Galerija Glasnik), Budapest, Hungary (Black Black Gallery ), Seattle (Roq la Rue), Paris ( Regard Moderne, Cultural Center of Serbia ), San Francisco (Cartoon Art Museum), Poitiers, France (Fanzinotheque), Zagreb, Croatia (Mocvara), Munich, Germany ( Liquid Ad Store), Ravenna, Italy ( La Bottega Gallery), Zrenjanin, Serbia ( Kulturni centar), Indjija, Serbia (Galerija Kulturnog centra), Lodi, Italy ( Teatrino dell'Informagiovani), Thessaloniki, Greece (Cofix), Bologna, Italy (BilBolBull Comics Festival), etc. etc.
Selected rewards: " MAKS "- For the Comics Author of the Year, Zajecar, Serbia (1997)., "Lucca Comics", Special Prize, Lucca, Italy (1998), "Scomese sul futuro", Napoli,Italy (1999), "Hector Oesterheld Award – XXIII International Exhibition of Comics", Rome, Italy (1999), October's Award of the City of Pancevo (2000), Special prize for the contribution to international afirmation of Serbian Comics, International Salon of Comics, Belgrade (2004).